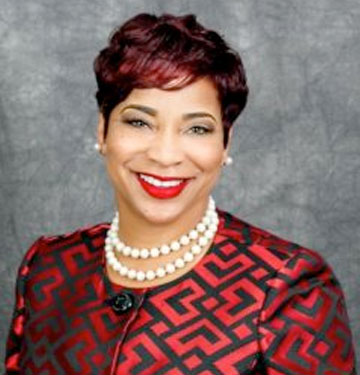 District 4 Map
Contact Ms. Ellison – Board_Member4@opsb.us
Back to Board Members
Leslie Ellison
District 4
The Honorable Leslie Ellison serves the citizens of Algiers, Faubourg Marigny, Bywater and the French Quarter on the Orleans Parish School Board, District 4. Ms. Ellison was first elected to the Orleans Parish School Board on November 6, 2012, and has held numerous leadership positions since assuming office.

A strong visionary and passionate education leader, Ms. Ellison's commitment to service rests in putting the needs of children and the community first. She has displayed astute prowess in these capacities for more than 20 years through legislative and policy advocacy on education reform as well as intergovernmental affairs at the local, state, national and international levels.

In addition to her service on the Orleans Parish School Board, Ms. Ellison is a member of various community, business and service organizations. She is owner and CEO of the Ellison Group, LLC and serves as administrator at Gideon Christian Fellowship International.

Ms. Ellison obtained a degree in business administration from Southern University at New Orleans. A graduate of Orleans public schools, she attended Paul B. Habans Elementary, Edna Karr and Oliver Perry Walker Senior High School, respectively. Ms. Ellison is a lifelong resident of the historic Tunisburg/McClendonville community in Algiers, Louisiana.