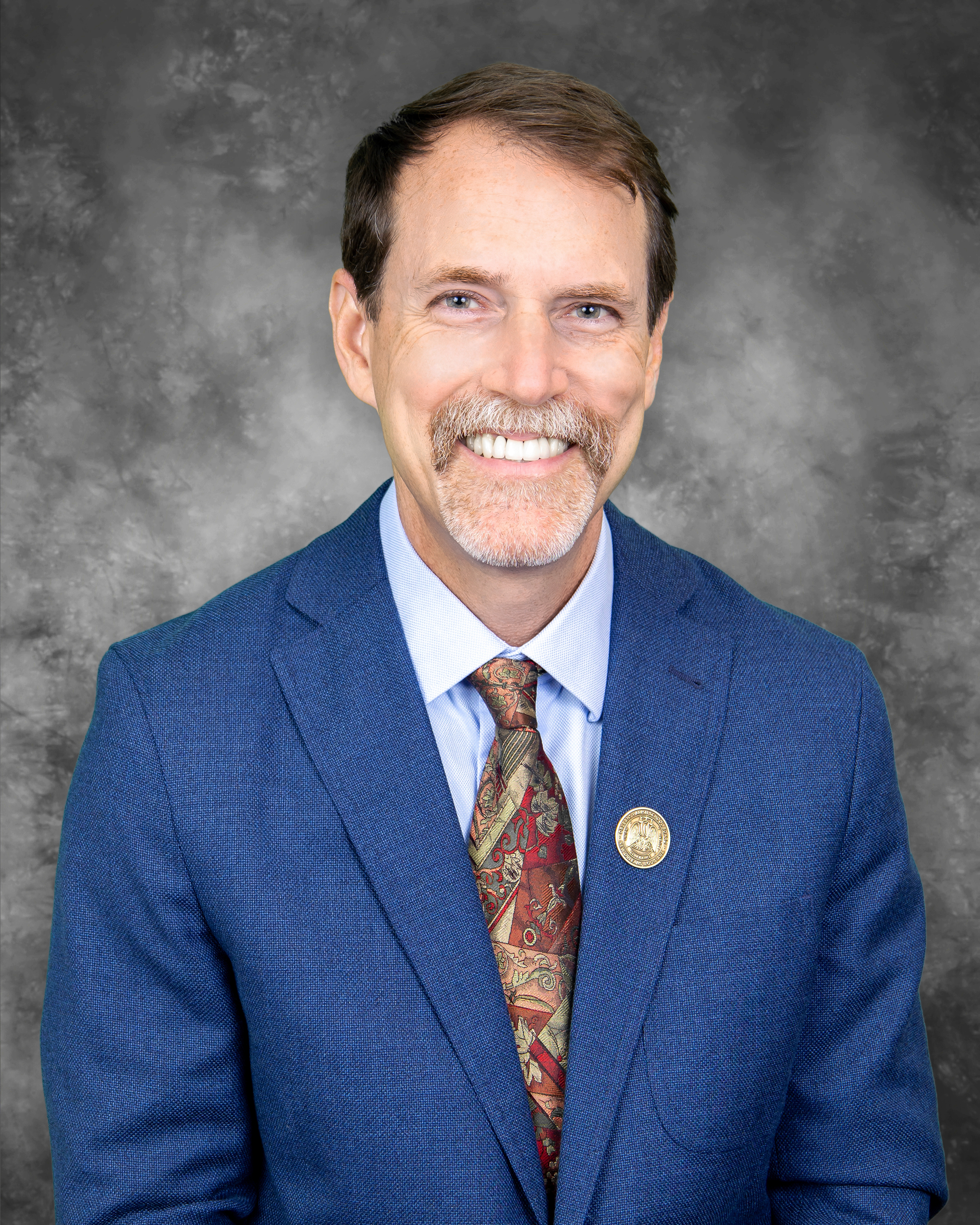 Carlos Luis Zervigon - Vice President
District 6
Born and raised in New Orleans, Carlos is a proud graduate of the New Orleans Public Schools, graduating from Eleanor McMain Secondary School in 1984. He went on to study History, Studio Art and Education at Tulane University where he earned a BA in History, a BFA in Glass Sculpture, as well as his Teacher Certification for Secondary Social Studies. Carlos also holds a Masters in History Teaching from the University of New Orleans. He and his wife Elizabeth (Ben Franklin '84) raised their six children in New Orleans, all of whom attended New Orleans Public Schools.
Out of a sense of loyalty to the system that gave him his education and a sense of urgency that the system must improve, Carlos joined the New Orleans Public Schools teaching core, including teaching social studies at Ben Franklin High School from 1993-2000. Having struggled with severe learning disabilities, Carlos is keenly aware of the need to meet each child's unique learning needs. While teaching at Ben Franklin, Carlos served as the Learning Disabilities Contact Teacher, giving students under his care the support he had never received. At Ben Franklin Carlos also helped create the new geography curriculum and won state approval for a new elective, History of the 20th Century. Carlos also served as the Freshman Class Sponsor, helping the 9th grade students adjust to life in high school.
In 2000 Carlos began working fulltime as a freelance glass sculptor. His work has shown nationally, has been featured in many publications, and has won numerous awards. Helping to rebuild the arts community post-Katrina, Carlos was a co-founder, then President and CEO of the New Orleans Creative Glass Institute (NOCGI) which built a state-of-the-art public-access glass studio in Mid-City. Opening in September of 2006, NOCGI was the first business to open in central Mid-City post Katrina. As President and CEO, Carlos helped oversee NOCGI's merger with YaYa, Inc. to create the YaYa Arts Center in Central City.
Rebuilding public schools after Hurricane Katrina, Carlos was elected to be the Founding Board Chair to reopen Audubon Montessori / L'Ecole Franco-Américaine as Audubon Charter. Working with the school community and the Orleans Parish School Board, Audubon rehired its faculty and reopened in January of 2006. Carlos later served on the board of Ben Franklin High School, servings as its President from 2018 to 2020. Carlos' other board service includes Founding Treasure/Secretary of New Orleans College Beyond, Secretary then Vice President of the Louisiana SPCA, and Board Member of the NOCCA Institute and the Ruby Bridges Foundation. While serving the LASPCA, Carlos was the founding Chair of the Government Affairs and Advocacy Committee which advocates for animal welfare legislation and helps negotiate the animal control contract between the LASPCA and the City of New Orleans.
Carlos Luis Zervigon District 6 Schools
| | | | |
| --- | --- | --- | --- |
| School Board District | School Board Member | School Name | Address |
| District 6 | Carlos Luis Zervigon | Audubon Uptown Montessori and French | 428 Broadway St, 70118 |
| District 6 | Carlos Luis Zervigon | Benjamin Franklin Elementary Mathematics and Science School (OPSB LEA) | 1116 Jefferson Ave, 70115 |
| District 6 | Carlos Luis Zervigon | Booker T. Washington High School (KIPP) | 1201 South Roman St, 70125 |
| District 6 | Carlos Luis Zervigon | CA: Opportunities Academy | 2625 Thalia St, 70113 |
| District 6 | Carlos Luis Zervigon | Eleanor McMain Secondary School | 5712 S Claiborne Ave, 70125 |
| District 6 | Carlos Luis Zervigon | Esperanza Charter School | 9330 Forshey St, 70118 |
| District 6 | Carlos Luis Zervigon | International School of LA: Dixon (BESE) | 4040 Eagle St, 70118 |
| District 6 | Carlos Luis Zervigon | KIPP Central City | 3127 Martin Luther King Jr Blvd, 70125 |
| District 6 | Carlos Luis Zervigon | Lafayette Academy Charter School | 2727 S. Carrollton Ave, 70118 |
| District 6 | Carlos Luis Zervigon | Lycee Francais de la Nouvelle-Orleans (LFNO) (BESE) | 1800 Monroe St, 70118 |
| District 6 | Carlos Luis Zervigon | Lycee Francais de la Nouvelle-Orleans: (LFNO) (BESE ) | 1619 Leonidas St, 70118 |
| District 6 | Carlos Luis Zervigon | Lycee Francais de la Nouvelle-Orleans: (LFNO) (BESE) | 5951 Patton St, 70115 |
| District 6 | Carlos Luis Zervigon | Noble Minds Institute for Whole Child Learning (BESE) | 1333 S. Carrollton Ave., 70118 |
| District 6 | Carlos Luis Zervigon | The Willow School | 7315 Willow St, 70118 |
| District 6 | Carlos Luis Zervigon | The Willow School | 5625 Loyola Ave, 70115 |
| District 6 | Carlos Luis Zervigon | The Willow School | 5624 Feret Street, 70115 |