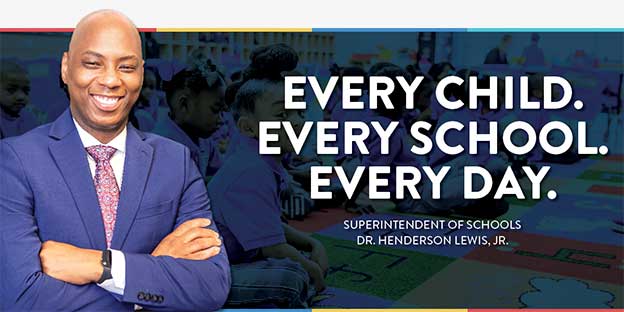 Last week has given us another great hope in our fight against the COVID-19 pandemic and our efforts to keep our students and staff healthy and safe and in school, where the joy of learning can continue to thrive. The Centers for Disease Control & Prevention (CDC) on Tuesday approved emergency authorization for the COVID vaccine for children ages 5-11.
This means that almost all our school-age students are now eligible for this safe, effective, and lifesaving prevention measure. We have seen the proven benefits: among the vaccinated there are fewer infections; fewer hospitalizations; and fewer deaths.
Subscribe To Our Newsletter
NOLA-PS Renaming Initiative
NOLA-PS outlined a plan to rename school facilities in response to recent public requests and in accordance with policy approved by the OPSB to ensure school facilities do not have names honoring figures from our painful past. The board believes all schools should be welcoming, inclusive, and inspiring places for all students. Our goal is to ensure the names of these physical school facilities and the people that we honor reflect the values of the school district. For more information, please visit: nolapublicschools.com/renaming
GUIDANCE UPDATE: ALL ARE REQUIRED TO WEAR FACE MASKS IN SCHOOL FACILITIES, RESTRICT ASSEMBLY SPACE USE AND UPDATE COVID-19 CASE PROCEDURES, EFFECTIVE 7/30/2021
NOLA Public Schools takes the health of our students, educators, and staff seriously, and we are committed to doing everything we can to ensure the safety of our district and schools. Visit our COVID Guidance for the 2021-2022 School Year to review our latest guidelines to best keep our community safe.
To help provide easy access to the vaccine, NOLA-PS, in partnership with local health partners, will be continuing to offer its summer mobile vaccine drive to eligible students 12 and older. Click here for the list of sites.
Families with medically vulnerable students or circumstances can apply for distance learning options by submitting this COVID Eligibility Form directly to their schools.

Several of our schools are serving as community feeding centers at this time. Visit our COVID-19 Child Nutrition page for the latest list of schools and hours of operation.

Check out our COVID-19 Community Resource Center for important information and resources for families and community members.


To view our COVID Tracker for the 2021-2022 school year, please visit this link.
To view our archived COVID Tracker for the 2020-2021 school year, please visit this link.


For further information about how we reopened schools during the 2020-2021 school year, read our Roadmap to Reopening.
NOLA Public Schools' 2020-2021 Annual Report focuses on the role and accom­plishments of the Central Office during this past school year. Please join NOLA-PS as it prepares for the next phase of its journey to be a national model for successful public education. Please click the upper right corner of the report to view it.
Teach New Orleans is the fastest way to share your resume with all New Orleans public schools. Visit Teach New Orleans, to apply now and start making a difference today.