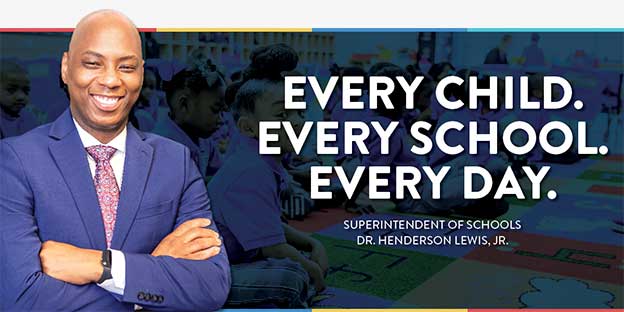 Dear NOLA-PS Family and Community,

As we continue to experience the many uncertainties of this pandemic, I am in awe of the strength, perseverance, and love that the members of our NOLA Public Schools community have shown for each other. Our schools continue to connect our students to learning during these challenging times; excelling at an effort that many school districts across the country continue to struggle with.

We are ahead of the curve because we are approaching the Omicron surge as a team. Our school leaders come together regularly to share ideas on how to continue to keep our students, teachers, and support staff safe while preserving in-person learning wherever possible. We continue to stay true to our data-driven, medically advised approach to COVID safety.

We continue to mask up, maintain social distancing whenever possible, and get tested often. In fact, our schools tested more than 18,000 students and staff in the first week of January – many before students and teachers ever set foot in classrooms – which gave our schools the support to stay open when so many other school districts are closed. That is a tremendous effort! Keep it up.

Now is the time to double down on our proactive approach. I have set February 1 as the deadline for all eligible NOLA-PS students, 5 and up, to be fully vaccinated. We were among the first districts in the nation to do this, and it is essential that we follow through so that our students can get the most out of the second half of their school year and to protect their health and safety in the future.

There are opportunities all over the city to get the vaccine: you can visit www.nolapublicschools.com/vaccinations or ready.nola.gov for more information. Let's all do our part because we are stronger, together.

Our commitment to community has a deeper, more hopeful meaning as we honor Dr. Martin Luther King, Jr. this weekend. He understood that the march to equality could not be done alone. Let us continue to come together in every aspect of our lives so that we can truly realize his dream that everyone can live with meaning and fulfillment, together and without fear.

Lastly, I want to thank our School Board members for their leadership. January is School Board Recognition Month, and their commitment to strengthening the education of our 46,000 students is unparalleled. I credit their sound advice and thoughtful approach with positioning NOLA-PS for great success. We are all grateful for their service.

As we march toward Spring, let care for others guide you. Again, we all know we are stronger when we are together.

In Service,

Dr. Henderson Lewis, Jr.
Subscribe To Our Newsletter
NOLA-PS Renaming Initiative
NOLA-PS outlined a plan to rename school facilities in response to recent public requests and in accordance with policy approved by the OPSB to ensure school facilities do not have names honoring figures from our painful past. The board believes all schools should be welcoming, inclusive, and inspiring places for all students. Our goal is to ensure the names of these physical school facilities and the people that we honor reflect the values of the school district. For more information, please visit: nolapublicschools.com/renaming
GUIDANCE UPDATE: ALL ARE REQUIRED TO WEAR FACE MASKS IN SCHOOL FACILITIES, RESTRICT ASSEMBLY SPACE USE AND UPDATE COVID-19 CASE PROCEDURES, EFFECTIVE 7/30/2021
NOLA Public Schools takes the health of our students, educators, and staff seriously, and we are committed to doing everything we can to ensure the safety of our district and schools. Visit our COVID Guidance for the 2021-2022 School Year to review our latest guidelines to best keep our community safe.
NOLA-PS has issued a requirement for all students 5 years and older to be vaccinated by Feb. 1, 2022 to keep classrooms safe and to limit disruptions to in-person learning.

To help provide easy access to the vaccine, NOLA-PS, in partnership with local health partners, will be continuing to offer vaccination opportunities to eligible students. Click here for the list of sites.
Families with medically vulnerable students or circumstances can apply for distance learning options by submitting this COVID Eligibility Form directly to their schools.

Several of our schools are serving as community feeding centers at this time. Visit our COVID-19 Child Nutrition page for the latest list of schools and hours of operation.

Check out our COVID-19 Community Resource Center for important information and resources for families and community members.


To view our COVID Tracker for the 2021-2022 school year, please visit this link. These data now include the number of weekly tests administered among our school community, as well as the weekly positive test rate.
To view our archived COVID Tracker for the 2020-2021 school year, please visit this link.
For further information about how we reopened schools during the 2020-2021 school year, read our Roadmap to Reopening.
NOLA Public Schools' 2020-2021 Annual Report focuses on the role and accom­plishments of the Central Office during this past school year. Please join NOLA-PS as it prepares for the next phase of its journey to be a national model for successful public education. Please click the upper right corner of the report to view it.
Teach New Orleans is the fastest way to share your resume with all New Orleans public schools. Visit Teach New Orleans, to apply now and start making a difference today.