NOLA Public Schools Release Results of Public Education Survey 
Survey sought feedback from the public on how COVID-19 has affected public education in  Orleans Parish, concerns for health and safety top respondents priorities for next school year
  
NEW ORLEANS – (June 19, 2020) – As  NOLA Public Schools (NOLA-PS) prepares for the 2020-2021 school year, it encouraged the community to participate in a Public Education Survey to gain insights on how COVID-19 has affected public education, as well as how to best return to school in the fall. The survey, which closed on June 5, was  anonymous and open to all parents, teachers, school staff and administration, students in grades 6 and above and community members. 

In total, 7,227 people completed the survey.  The largest group of respondents, roughly 66 percent, were parents/guardians of children who attend a New Orleans public school. Twenty one percent were Orleans Parish educators, 8 percent were Orleans Parish students and about 5 percent were community members. All zip codes were represented from across New Orleans. Overwhelmingly, the main priority for respondents was in outlining safety and health protocols in the coming school year.

The district plans to utilize these results in drafting a Roadmap to Reopening next school year. That plan, which is currently being drafted with the input of the NOLA-PS Reopening Task Force, along with other key stakeholders and school leaders, is scheduled to be shared with the public the week of June 29th. A key factor impacting the plan development is the receipt of final guidance from the Louisiana Department of Education.

"I want to thank all the parents, students, educators and community members who took the time to participate in our survey. The community's feedback is vital as we plan for upcoming school year," said NOLA-PS Superintendent Dr. Henderson Lewis, Jr. "Our priority continues to be the physical and mental health of our students and staff. NOLA-PS is working closely with our stakeholders and medical advisors to build a plan to help us open school as safely as possible."

Survey results provided insight on important actions NOLA-PS needs to take when planning for the reopening of schools. Based upon all stakeholder responses, the health and safety of students and staff are identified as the core priority to drive reopening and standards for school operation.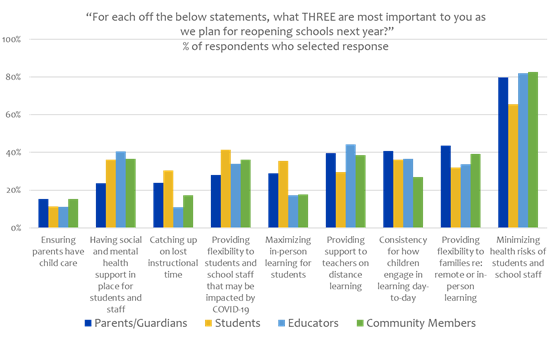 To better unify the protocols for reopening schools, and to make protocols and guidelines streamlined across the district, the administration has been sharing multiple potential needs to inform schools' planning.

Some of those shared considerations include:

Considering staggering school schedules to allow for fewer students on campus at one time
Reducing class sizes
Increasing hygiene practices for staff and students and increasing sanitation schedules for campuses
Social distancing on school buses
Conducting lunch service in classrooms
Controlled entry and exit points on campus and limiting visitors to campus
Regular wellness checks for students and staff
Masks for students and staff

Additionally, NOLA-PS is in the process of hiring a medical and public health advisor who will oversee reentry planning processes and will be available to all schools in the district to advise on actions to take and how to keep our campuses safe.

Further survey results indicated that having social and emotional health supports for students and staff is an overall top priority for the upcoming school year, especially with educators. 

NOLA-PS also found that, given the uncertainty and health risks COVID-19 poses to the school community, schools must provide flexible options for students and families. If staggered schedules are required, 64 percent of respondents would prefer alternating days over other options like staggering arrival times on the same day. However, more than half of teachers and families called for distance learning to be in place as an option next year, regardless of school reopening. 

Should distance learning continue to be required, stakeholders prioritize improving the level of specificity and directions given to students and families, along with ensuring teachers have proper training and support. Specifically, 88 percent of parents indicated that it would be helpful to have a summary of what their child needs to have learned to be on track for the next grade. 87 percent would like guidance on which tasks and assignments to prioritize each day and 85 percent would like to have someone who can provide help or support on assignments when they have questions.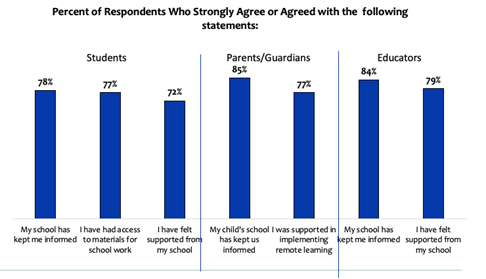 On broad measures of satisfaction, nearly three out of four or more of all students, families and educators report feeling informed and supported by their schools this past spring. Further, 86 percent of parents agreed their child had reliable internet access and 77 percent agreed they were supported by teachers and schools in implementing remote learning. While parents overwhelmingly agreed they had access to key supports during the transition to distance learning, they want information on academic support in advance of the upcoming school year. The District and Reopening Task Force are taking these data points and applying them when planning for every possible scenario for the reopening of schools.

At the start of the COVID-19 outbreak in New Orleans, NOLA-PS quickly acquired 10,000 laptops and 8,000 Wi-Fi hotspots. In addition, the district developed a partnership with Cox Communications. Cox offered reduced internet rates to families in an effort to improve distance learning for Orleans Parish public school students. The District worked closely with schools to address needs for each student population and help fill the gaps for those schools that did not have enough laptops for students.  NOLA-PS, along with school leaders, will continue to work diligently to acquire additional resources in an effort to close any remaining technology gaps and improve distance learning for students and families ahead of the next school year.  

A fact sheet with highlights from the survey can be found here.


###    

ABOUT NOLA PUBLIC SCHOOLS: NOLA Public Schools is the public school district for Orleans Parish, which includes the district's elected school board, known as the Orleans Parish School Board and the district's administration led by NOLA Public Schools Superintendent Dr. Henderson Lewis Jr. NOLA Public Schools currently oversees 78 public schools. For more information, visit www.nolapublicschools.com. For updates, follow NOLA Public Schools on Facebook @NOLAPublicSchools, Instagram @nolaps and Twitter @NOLAPSchools.

Stay Informed
When you subscribe to the blog, we will send you an e-mail when there are new updates on the site so you wouldn't miss them.